The Immortal Crown (Age of X #2) by Richelle Mead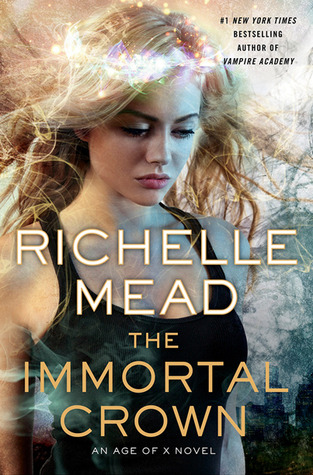 Gameboard of the Gods introduced religious investigator Justin March and Mae Koskinen, the beautiful supersoldier assigned to protect him. Together they have been charged with investigating reports of the supernatural and the return of the gods, both inside the Republic of United North America and out. With this highly classified knowledge comes a shocking revelation: Not only are the gods vying for human control, but the elect—special humans marked by the divine—are turning against one another in bloody fashion.
Their mission takes a new twist when they are assigned to a diplomatic delegation headed by Lucian Darling, Justin's old friend and rival, going into Arcadia, the RUNA's dangerous neighboring country. Here, in a society where women are commodities and religion is intertwined with government, Justin discovers powerful forces at work, even as he struggles to come to terms with his own reluctantly acquired deity.
Meanwhile, Mae—grudgingly posing as Justin's concubine—has a secret mission of her own: finding the illegitimate niece her family smuggled away years ago. But with Justin and Mae resisting the resurgence of the gods in Arcadia, a reporter's connection with someone close to Justin back home threatens to expose their mission—and with it the divine forces the government is determined to keep secret.
Rating: 5/5
Mead has truly excelled at creating a vivid and believable world in the Age of X series. I was impressed y the depth of detail and easy mechanics by which the world (and supernatural activity) functioned in the first book, Gameborad of the Gods. Now, never one to disappoint, Mead has stepped it up another notch.
Highlighting the escalation tensions as the gods vy for position in the mortal realm, this book solidly establishes some of the key power-players that had only been hinted about previously. Now we have just enough pieces of the puzzle to have even more questions arising about what;s going on.
More importantly, some of the flexibility of newly forming religions and rigidity of the more established religions provides ample opportunity for Mead to illustrate not only the cultural developments of the post-Decline world, but how religion, and even a dearth of religion, play a key role. We've also seen some development in how the gods are able to interact with mortals, though I'll leave those details for you to discover on your own.
I'm also, as always, thoroughly pleased by Mead's character development. Justin and Mae both independently grew in their own personas as a result of the circumstances they each faced while visiting Arcadia. Likewise, their relationship with on another was further fleshed out, if only as a result of them each finally realizing what we, the readers, already knew. Tessa's role in all of this intrigues me — as a character she went through her "teenage rebellious stage" in this book, then pushed past it and regained her senses. She's developing nicely and learning an awful lot about herself, but I haven't quite decided how she fits in the larger picture yet — I have a sense she's going to be a catalyst for something major though.
One of the things about Mead's characters that I've always appreciated is their diversity of personality. It's easy to fall into the trap of having one or two major "types" of that most of your characters fit into. Not only within this series, but across all of Mead's books, each character is always definitively unique. I think it takes a lot of skill to make that uniqueness clear on paper. Perhaps even more to the point: that's a lot of voices that must be floating around in her head.
If you haven't read this series at all yet, it's definitely worth the time. Highly recommended.
Posted on June 28, 2014, in Dystopian/Futuristic, Urban Fantasy/Paranormal and tagged age of x, book reviews, books, dystopian, fantasy, Justin March, Mae Koskinen, richelle mead, supernatural, urban fantasy. Bookmark the permalink. Leave a comment.