Ruin and Rising (The Grisha #3) by Leigh Bardugo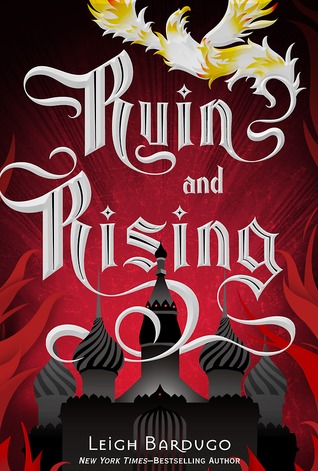 The Darkling rules Ravka from his shadow throne.
Now the nation's fate rests with a broken Sun Summoner, a disgraced tracker, and the shattered remnants of a once-great magical army.
Deep in an ancient network of tunnels and caverns, a weakened Alina must submit to the dubious protection of the Apparat and the zealots who worship her as a Saint. Yet her plans lie elsewhere, with the hunt for the elusive firebird and the hope that an outlaw prince still survives.
Alina will have to forge new alliances and put aside old rivalries as she and Mal race to find the last of Morozova's amplifiers. But as she begins to unravel the Darkling's secrets, she reveals a past that will forever alter her understanding of the bond they share and the power she wields. The firebird is the one thing that stands between Ravka and destruction—and claiming it could cost Alina the very future she's fighting for.
Rating: 5/5
With every new book of Bardugo's I read, I have a greater and greater appreciation for her skill with story craftig.
The first book left me feeling unsure, not really particularly liking the story or the writing, but even months after I had first read it, I still found myself thinking about the Darkling and Alina, wondering about what the next course of events would be. The second book kept me on the edge of my seaet, entranced by the twists and turns; and again, I found myself thinking about it for months, just a trickle of thought every now and then.
Finally, I've finished the third book and gotten the resolution I so longed for. And I suspect I will still find myself coming back to this world and war so artfully crafted.
I admire Bardugo's ability to write something so memorable—her characters and places and plots are all so real. One of the things I'm most impressed by is the depth of her characters, particularly the Darkling. He has context, a history that lead him to where he is today. More importantly, he is consistent. He is ruthless and demanding, and he always will be. Bardugo didn't have him pull his punches just to spare the reader. It's easy to understand what is driving him, and even Alina, who is fighting against him, understands why he is the way he is—in fact, she feels that same pull. The "good guys" are fully developed and have strong, unique personalities rather than being "cookie cutter characters."
One of the things that I really like about this series is the fact that Bardugo tackles the concept of loss. The heroes won, but it came at a great cost. And even though we have a happy ending, we are still given the chance to mourn the characters who have died. It's especially telling to me that even those who survived and will go on to live long, happy lives have suffered great personal loss. As Mal says, "loss is loss," and Bardugo doesn't belittle the seemingly smaller issues in light of the larger ones.
I'm so glad I ended up reading these books, and I'm even more glad that I gave the second one a chance after not having been too thrilled with the first one. If you feel kind of like that about the series, please keep reading—you won't regret it.
Posted on July 5, 2014, in High Fantasy and tagged alina, book reviews, books, darkling, fantasy, fire bird, leigh bardugo, magic, pirates, the grisha, YA, young adult. Bookmark the permalink. 3 Comments.