Clockwork Angel (The Infernal Devices #1) by Cassandra Clare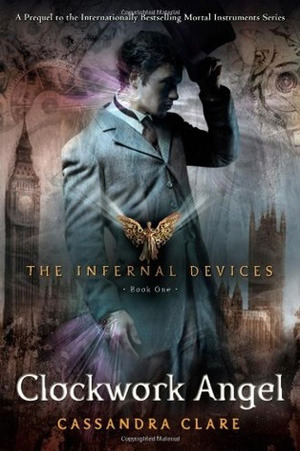 In a time when Shadowhunters are barely winning the fight against the forces of darkness, one battle will change the course of history forever. Welcome to the Infernal Devices trilogy, a stunning and dangerous prequel to the New York Times bestselling Mortal Instruments series.
The year is 1878. Tessa Gray descends into London's dark supernatural underworld in search of her missing brother. She soon discovers that her only allies are the demon-slaying Shadowhunters—including Will and Jem, the mysterious boys she is attracted to. Soon they find themselves up against the Pandemonium Club, a secret organization of vampires, demons, warlocks, and humans. Equipped with a magical army of unstoppable clockwork creatures, the Club is out to rule the British Empire, and only Tessa and her allies can stop them….
Rating: 4/5
I must say, I think I'm fonder of this book than I was of Clare's Mortal Instruments series opener, even though I'm giving this one a slightly lower rating. There are two predominant reasons for this:
I was initially put-off by the feeling that this was going to be a repeat of City of Bones. While the plot was markedly different, the cast of characters had too many similar attributes for me to be entirely comfortable with them, particularly regarding the make-up of the younger residents of the Institute. Once I got over that, I warmed to the book.
While I enjoyed the overall plot quite a bit more, this book didn't suck me in the way that City of Bones did. While not necessarily a bad thing, I didn't finish this book feeling like something remarkable had happened.
(Not a real reason, as I would never let something so trivial influence my rating negatively) I am rather annoyed at Will (even though I like him significantly more than Jace).
Clare has a rather clever plot that I enjoyed, though some of the world-building may have flown by a bit quickly for readers not familiar with the Mortal Instruments series. She assumed a bit of foreknowledge of certain aspects of the world of the Shadowhunters. While a lot was certainly explained for the benefit of Tessa, there were some details that were sort of glossed over that might present some confusion for the uninformed reader. It made me quite glad I had read City of Bones prior to picking this one up—I almost didn't. I highly recommend reading at least City of Bones prior to tackling Clockwork Angel.
Clare's best attribute about her writing probably lies in her imagery. In school we're taught to use imagery in our writing to paint a picture, but so often authors who intentionally employ such techniques tend to get lost in them, forgetting that there's a story to tell and it still needs to feel natural. Clare, however, slips in tidbits of information casually and gracefully, and none of it ever feels forced. I know just enough to have a clear picture in my head of every character and the significant aspects of their surroundings. She also doesn't hesitate to convey things such as scents and sounds with very apropos similes and metaphors, which is a skill I have found surprisingly lacking.
If you're going to make comparisons to convey information, here a few key things to keep in mind (I'm apparently in a mood to list things today; I blame the British characters in the novel for absolutely no good reason):
Don't do it overwhelmingly
Either keep to a theme (Clare used insects in her comparisons at very appropriate times. While I don't like the bloody things, it was very cleverly employed) or don't have a theme; none of this mix and matching I have mentioned with other authors.
Don't force it— if a metaphor or simile isn't working, don't use one. One that's forced in there is more likely to distract the reader than convey any meaningful information.
Overall, this was an excellently written book. I'll make sure to get book 2 added to my to-read list … somewhere …
(By the way, I have a personal pet peeve about the use of ellipses. If you're going to put an ellipsis at the end of a sentence, you absolutely must use only three periods (four if it's in the middle of a quote and you wish to convey the end of a sentence before continuing to another quote from the same text). Under no circumstances, in my opinion, should you end your dust jacket description with five periods.)
Here's a link to my review of City of Bones, since I mentioned it so much.
Posted on July 15, 2014, in High Fantasy, Steampunk and tagged book reviews, books, cassandra clare, city of bones, clockwork, dark sisters, demons, fantasy, infernal devices, mortal insutruments, shadowhunter, steampunk, vampires. Bookmark the permalink. 4 Comments.