A Discovery of Witches (All Souls Trilogy #1) by Deborah Harkness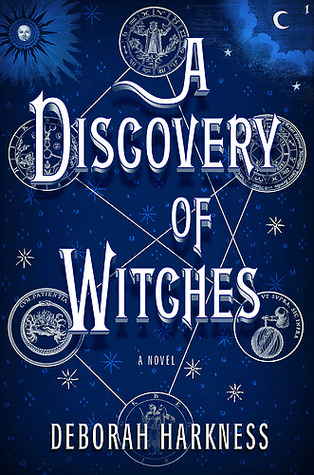 Deep in the stacks of Oxford's Bodleian Library, young scholar Diana Bishop unwittingly calls up a bewitched alchemical manuscript in the course of her research. Descended from an old and distinguished line of witches, Diana wants nothing to do with sorcery; so after a furtive glance and a few notes, she banishes the book to the stacks. But her discovery sets a fantastical underworld stirring, and a horde of daemons, witches, and vampires soon descends upon the library. Diana has stumbled upon a coveted treasure lost for centuries-and she is the only creature who can break its spell.
Debut novelist Deborah Harkness has crafted a mesmerizing and addictive read, equal parts history and magic, romance and suspense. Diana is a bold heroine who meets her equal in vampire geneticist Matthew Clairmont, and gradually warms up to him as their alliance deepens into an intimacy that violates age-old taboos. This smart, sophisticated story harks back to the novels of Anne Rice, but it is as contemporary and sensual as the Twilight series-with an extra serving of historical realism.
Rating: 4/5
This was my second time reading this book, and once again it didn't disappoint. I felt like I was getting a history lesson and a biology lesson all at once, and even though I'd read it all before, I still learned some new things. More importantly, some of the detail Harkness so carefully layers into her writing was more noticed this go round.
And speaking of detail … Harkness has a gift for describing worlds. It's not just the visual imagery that is captivating in this book, but the full breadth of sensation. And even while she goes into the lowest level of detail, she doesn't let the reader's mind wander away from the task at hand—the plot is still the single most important part of the book.
I will qualify all of this and say that there are some fairly slower bits for a good chunk of the book—the real action doesn't really pick up until about two-thirds of the way through. That's certainly not a problem, but it is something to be prepared for. I also recall when I first read this book thinking that the primary premise—a witch and vampire loving each other; oh god, what is the world coming to?—was relatively weak as a main plot. It becomes much more self-evident, and much more meaningful, as this first novel in the series reaches its conclusion.
And oh my god what a cliff-hanger!
I've got a few books on my "to-review-in-a-reasonable-amount-of-time list", then I plan on re-reading book #2, and finally cracking the spine on the final installment of the series. Super excited!
Posted on August 3, 2014, in Urban Fantasy/Paranormal and tagged a discovery of witches, alchemy, all souls trilogy, daemons, deborah harkness, diana bishop, evolution, fantasy, historical fiction, matthew clairmont, time travel, urban fantasy, vampires, witches. Bookmark the permalink. Leave a comment.