Description Review: The Burning Sky (The Elemental Trilogy #1) by Sherry Thomas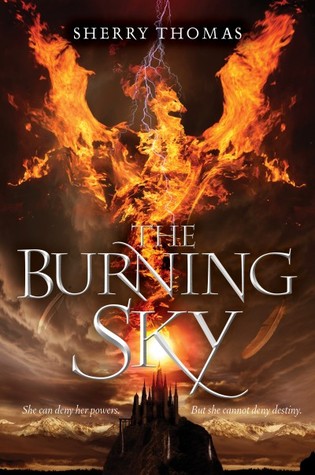 It all began with a ruined elixir and an accidental bolt of lightning…
Iolanthe Seabourne is the greatest elemental mage of her generation—or so she's being told. The one prophesied for years to be the savior of The Realm. It is her duty and destiny to face and defeat the Bane, the greatest mage tyrant the world has ever known. A suicide task for anyone let alone a sixteen-year-old girl with no training, facing a prophecy that foretells a fiery clash to the death.
Prince Titus of Elberon has sworn to protect Iolanthe at all costs but he's also a powerful mage committed to obliterating the Bane to avenge the death of his family—even if he must sacrifice both Iolanthe and himself to achieve his goal.
But Titus makes the terrifying mistake of falling in love with the girl who should have been only a means to an end. Now, with the servants of the Bane closing in, he must choose between his mission and her life.
Source: Book 2 of the series was listed as a "book we can't wait for" at FicFare
Review:
First thought: How does one have an accidental bolt of lightning? That's an interesting way to put it, and it already makes me interested in the book. Maybe I'm easy to buy over, but the mere idea of accidental lightning bolts sounds like the kind of author who would entertain me. It's simple, it's elegant. And yet, it's still an interesting piece of information.
Second thought: How the hell do you pronounce that name? Complicated names certainly won't impact my willingness to read a book, but they will certainly force me to stop skimming for a second and think about it for a second. I'm not sure if that's good or bad. (By the way, this youtube video tells you how to pronounce Iolanthe, if you're curious and don't already know).
The rest of that paragraph gives us a pretty good idea of what's going on. Basically, the fate of the world rests on the shoulders of our protagonist, who is young and doesn't necessarily believe that she's really all that great. (Stupid prophecies—you've ruined the lives of so many young characters who fall into their trap. Why don't you ever foretell about great deeds that will be completed by characters who are mature and trained, and ready for that kind of responsibility? It's like all writers are sadists or something …)
And then we have the love and sacrifice aspects that every decent story needs. In the form of a Prince named Titus (seriously, who would give their kids these kinds of names? (I don't mean that negatively, just an observation, and wouldn't detract from the reading. Though if you say Titus really fast it sounds like you're saying "tight ass," which I find humorous)).
It sounds like it might feel a bit cliche based on the description, but I'm still interested. Honestly, that first line did more to convince me I might give this one a go than the rest of the description. But it certainly sounds interesting enough. 🙂