Wild Things (Chicagoland Vampires #9) by Chloe Neill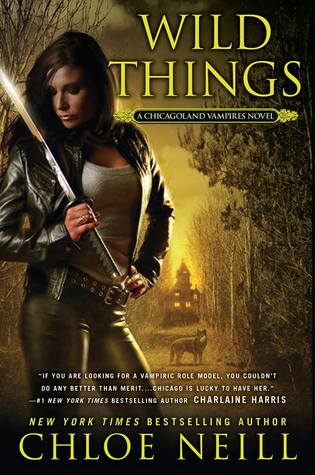 Since Merit was turned into a vampire, and the protector of Chicago's Cadogan House, it's been a wild ride. She and Master vampire Ethan Sullivan have helped make Cadogan's vampires the strongest in North America, and forged ties with paranormal folk of all breeds and creeds, living or dead…or both.
But now those alliances are about to be tested. A strange and twisted magic has ripped through the North American Central Pack, and Merit's closest friends are caught in the crosshairs. Gabriel Keene, the Pack Apex, looks to Merit and Ethan for help. But who—or what—could possibly be powerful enough to out-magic a shifter?
Merit is about to go toe to toe, and cold steel to cold heart, to find out.
Format: Audiobook
Rating: 4/5
I honestly had no idea what to rate this one. I really, really liked it, but at the same time … It just didn't thrill me. I also try to avoid rating a single book based on how much I've enjoyed the series thus far—this is easy to accomplish fairly early on, but by the time you get to the 9th book in the series, it gets a little more challenging. Overall, I give this series an easy 5 stars—it's been absolutely wonderful. The characters are great, the plots are inventive, and I haven't once felt like I'm getting bored. More importantly, I haven't gotten annoyed with anyone yet.
That said, most of what I loved about this book was a result of things provided by the overall series, rather than just this book. I absolutely loved the fact Neill keeps upping the anty for Merit, for Ethan, and more broadly for Cadogan House. I mean, it's been a steady crescendo since book one, but so far this book takes the cake on the level of drama. The mayor's dislike of vampires escalates, and this time it's specifically targeted toward Ethan. And that's only one of the problems dealt with in this novel. It's been an absolute pleasure to watch the characters learn and grow through the adversity that they've faced.
But again, most of the reason I enjoyed the plot in this one is because of the wonderful build-up to this point. And because I'm really anticipating the next book. This will honestly very likely be one of those books that I'll look back on after I've finished the series and wonder "what happened in that one again?" And that's not because this book was lacking. Quite the opposite—we've wrapped up quite a few problems and are getting geared up for what I suspect will be some absolutely stellar upcoming books. That excites me, just not about this book.
Which I suppose is a good thing in a book. I mean, I clearly enjoyed the book. I clearly am going to read the next one.
But the beginning was slow. Slow enough, in fact, that I actually started reading this one in (*checks Goodreads*) mid-March (exactly 6 months ago yesterday), set it back on the shelf when work got crazy-ish, and only just picked it back up this week. As an audiobook (in fairness, I listened to the first … 6 or so? … books, so switching back wasn't really a big leap). So even though I absolutely loved everything that happened in this book (and I'm thrilled about the direction the series is going), I'm only giving this one 4 stars.
Posted on September 18, 2014, in Urban Fantasy/Paranormal and tagged angels, chicagoland vampires, chloe neill, elves, ethan sullivan, merit, urban fantasy, vampires, werewolves, wild things. Bookmark the permalink. 1 Comment.