The Coldest Girl in Coldtown by Holly Black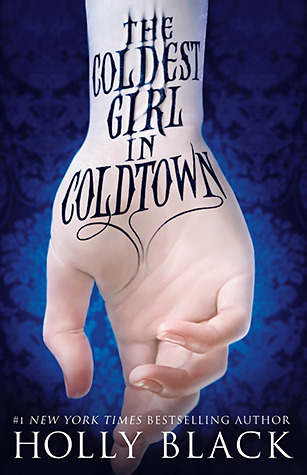 Tana lives in a world where walled cities called Coldtowns exist. In them, quarantined monsters and humans mingle in a decadently bloody mix of predator and prey. The only problem is, once you pass through Coldtown's gates, you can never leave.
One morning, after a perfectly ordinary party, Tana wakes up surrounded by corpses. The only other survivors of this massacre are her exasperatingly endearing ex-boyfriend, infected and on the edge, and a mysterious boy burdened with a terrible secret. Shaken and determined, Tana enters a race against the clock to save the three of them the only way she knows how: by going straight to the wicked, opulent heart of Coldtown itself.
The Coldest Girl in Coldtown is a wholly original story of rage and revenge, of guilt and horror, and of love and loathing from bestselling and acclaimed author Holly Black.
Rating: 4.5/5
Before I write my review, I need to warn you: I've been writing and peer reviewing stats reports the last couple of days, so this review may sound a bit more clinical than you're used to. Apologies in advance. ~Liza
This book was an excellent read. Just, all the way around. It had a great plot—very unique, and set in a pretty unique world. There were definite peaks and valleys, but the pacing felt right—I didn't feel like we had prolonged periods slow or too much rushed in all together.
Black's use of imagery was particularly impressive. This whole book is a good example of showing instead of telling, and I really felt like I was a part of the setting. It wasn't so much that the detail was very precise — there was plenty of room to let my imagination do the work, and Black didn't overwhelm with detail. It manifested itself more in that she chose the right details to share, and those she did very well. I'm not normally a fan of flashback scenes to seemingly unrelated pieces of the main character's past, but Black tied them in really well, and the details she selected for those scenes added a whole layer of context to the present-day setting, and I was quite pleased with how that was handled.
And the characters … Oh, the characters. I absolutely love Tana. And I love Gavriel. And more importantly, it doesn't feel like they were forced together or like there's just this spurious spark between them that doesn't feel real. It all had the necessary context. I'm not going to talk much about that, but you'll appreciate what I mean when you read it (if you haven't already).
And let's talk about this world. It's basically an alternate reality where vampires have only recently come out in the open and the US government copes with it by creating coldtowns. At first it seemed a little odd to me, but the idea definitely grew on me as we learned more about what coldtowns are. Very nicely thought out from a logistical perspective, and beautifully executed. And again, a nice twist on the genre 🙂
If you haven't read this already, you definitely should.
Posted on September 24, 2014, in Urban Fantasy/Paranormal and tagged alternate world, book reviews, books, coldest girl in coldtown, coldtown, holly black, tana, urban fantasy, vampires. Bookmark the permalink. 6 Comments.