Blood Games (Chicagoland Vampires #10) by Chloe Neill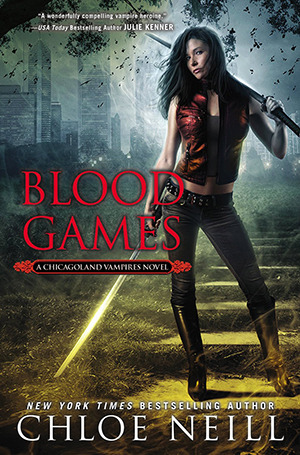 While Merit didn't choose to become a vampire or Sentinel of Cadogan House, she vowed to fight for her House and its Master, and she's managed to forge strong alliances with powerful supernaturals across Chicago. But even though Merit has had wild adventures, this may be her deadliest yet…
A killer is stalking Chicago, preying on humans and leaving his victims with magical souvenirs. The CPD hasn't been able to track the assailant, and as the body count rises, the city is running out of options. Vampires and humans aren't on great terms, but murder makes for strange bedfellows. Can Merit find the killer before she becomes a target?
Format: Audiobook
Rating: 4/5
I feel that my reviews of books in this series are starting to sound redundant, so I'm keeping this one pretty short. In summary, I absolutely love Neill's writing — the characters are all alive, and more importantly they're unique. The plots of each novel are good by themselves—there's enough content to justify any given book, the pacing is good, and I'm never bored. And the over-reaching plot is clear and, while there's not necessarily one main conflict tying them all together, I like how each books fits into the general scheme of things and how the world continues to develop.
Merit and Ethan tackle some emotional drama that somewhat annoyed me in this one. Yes, Ethan has a big scary past. Yes, Merit knows this and is already over it. No, Ethan shouldn't be freaking out about it. Yes, Merit's job is to protect Ethan. Yes, Ethan is all alpha male and wants to protect her. Why is this supposedly only just now an issue, after ten books in the series? These things may have been getting on my nerves. The good news is that they're not overwhelming by any means.
Overall, this is still a great series, and I'm quite pleased that Neill is still holding strong on this one.