Ice Massacre by Tiana Warner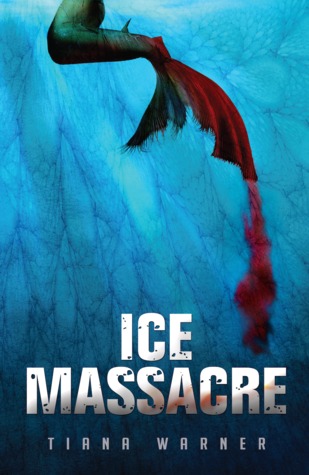 A mermaid's supernatural beauty serves one purpose: to lure a sailor to his death.
The Massacre is supposed to bring peace to Eriana Kwai. Every year, the island sends its warriors to battle these hostile sea demons. Every year, the warriors fail to return. Desperate for survival, the island must decide on a new strategy. Now, the fate of Eriana Kwai lies in the hands of twenty battle-trained girls and their resistance to a mermaid's allure.
Eighteen-year-old Meela has already lost her brother to the Massacre, and she has lived with a secret that's haunted her since childhood. For any hope of survival, she must overcome the demons of her past and become a ruthless mermaid killer.
For the first time, Eriana Kwai's Massacre warriors are female, and Meela must fight for her people's freedom on the Pacific Ocean's deadliest battleground.
I received an ARC of this book via Xpresso Book Tours. It in no way affects my judgment.
Rating: 4.5/5
I had absolutely no idea what to expect when I went into this book. I mean, the description is accurate, but it doesn't really prepare you for what you're about to read. I practically inhaled this book (to the extent that when my boyfriend kept interrupting me to go look at the bathroom he just painted, I started getting huffy—seriously, how is it fair to interrupt a scene like that repeatedly?!).
I. Completely. Believed. Every. Page.
Not only is it perfectly plausible (I mean, given that we assume that mermaids exist of course), but each scene was so well written it wasn't even a stretch to believe what I was reading. There's a bit about the economics of the world that still doesn't quite sit well with me—the local economy of the island has obviously suffered from the relentless onslaught of the mermaids, and they don't have any food anymore, yet they seem to have an endless supply of iron and wood to make weapons and build new ships. Maybe the iron is an abundant natural resource on the island? I mean, trade would obviously help with that particular problem, but it's been pretty clearly demonstrated that options down that path are somewhat limited. It's a minor nit in the grand scheme of things, but I did wonder about it on more than one occasion.
Meela was one hell of a main character, and I was particularly impressed with Warner's ability to write her as both an 18 year old and a 10 year old (yes, we have a flashback at the beginning of the book. And it's important and well-done and everything). She had a strong voice throughout, carried herself with a certain amount of sense rather than acting rashly (as some main characters in urban fantasy have been known to do *cough*trope of the genre). And her moments of indecision were're dramatized or played up to emphasize that "this issue matters—pay attention because it's going to come up in the test at the end of the book," which is a bit of a pet peeve of mine (and something I find to be far too common). Those pieces of indecision that did exist were appropriate for the situation and were meaningful.
If you flip through the reviews I've written recently, you'll notice that I'm not much of an action-reader. Suspense is difficult to write and I find that I dislike it more often than I like it. But this book had me pretty much on the edge of my seat as I was reading—not because I seriously wanted to know what would happen next, but because I had enough of an idea of what was going to happen that I didn't want it to happen. I mean, some of those girls are scary (and whose bright idea was it to load a ship full of eighteen-year-old bags of estrogen and tell them to organize themselves?), and some of the mermaids are even scarier.
Overall the plot was/is incredible (yes, this is/will be a series, and yes, I plan on reading the next book). There were a couple of times I found myself wondering about some of the peculiarities of the situation that the residents of Eriana Kwai find themselves in, but it's adequately explained. More importantly, the girls on the ship wondered about the same things in a very natural way.
I'll be honest and say that if you mind brutal honesty and gore in your books, you should steer clear of this one. Otherwise, I strongly encourage giving it a go.
Posted on October 8, 2014, in Urban Fantasy/Paranormal and tagged book reviews, books, fishing boats, gulf of alaska, ice massacre, mermaids, tiana warner, urban fantasy, warriors. Bookmark the permalink. 9 Comments.