Reread: Shadow of Nights (All Souls Trilogy #2) by Deborah Harkness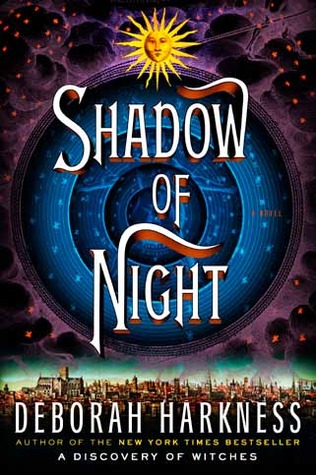 IT BEGAN WITH A DISCOVERY OF WITCHES.
Historian Diana Bishop, descended from a line of powerful witches, and long-lived vampire Matthew Clairmont have broken the laws dividing creatures. When Diana discovered a significant alchemical manuscript in the Bodleian Library,she sparked a struggle in which she became bound to Matthew. Now the fragile coexistence of witches, daemons, vampires and humans is dangerously threatened.
Seeking safety, Diana and Matthew travel back in time to London, 1590. But they soon realise that the past may not provide a haven. Reclaiming his former identity as poet and spy for Queen Elizabeth, the vampire falls back in with a group of radicals known as the School of Night. Many are unruly daemons, the creative minds of the age, including playwright Christopher Marlowe and mathematician Thomas Harriot.
Together Matthew and Diana scour Tudor London for the elusive manuscript Ashmole 782, and search for the witch who will teach Diana how to control her remarkable powers…
Rating: 5/5
The first time I "read" this book was listening to a copy from Audible. I loved it then, but I love it even more now. 16th century England/Europe is in no way my forte — in fact, I know very little of it, aside from watching shows like the Tudors, and I'm never quite sure how much I should actually take away from that kind of thing. One of my best friends in middle and high school was a history fanatic, and she absolutely loved reading and learning more about England in that kind of time-frame. I'm not sure that she was specific to Elizabethan England, but she was at least interested in all things Henry VIII, so I figure that's pretty close.
So the point of all of this is that when I listened to the audiobook, I knew that certain people were important and were names that I should recognize, but I couldn't place any of them for the life of me. For example, it wasn't until well after a TON of clues were dropped by Diana that I finally made the connection between Sir Walter Raleigh and the English explorer who disappeared at Roanoke. And I never really did place most of the other members of the School of Night.
This time, however, I understood so much more of the context of what I was reading, and it made me respect Harkness' skill as a writer that much more. I instantly recognized and placed the historical significance behind most of the characters that Diana meets in 1591 England, and even kept up with most of the references made about events going on in the rest of Europe. I don't know if it was just that I was being exposed to them for a second time by re-reading, or if actually seeing the names written down helped that much (entirely plausible).
Harkness has a way about her writing that makes everything feel real. I felt like I was living in 1591 right alongside Diana. One of the things I was most impressed with was the attention to detail she demonstrated in having Diana adapt to her new environment. The time spent describing her experiences learning to use a quill pen and learning how to use the currency. Hell, even Diana's difficulties in learning the right English to blend in the times. I'm not normally wow-ed by vivid detail because, to be honest, if it's not conveying vital information, I often skim over it. But in the case, it was all of the context that forced Diana (and Matthew) to change and grow as a character(s). The development that the two under went, both independently and in their relationship with one another, was remarkable, well paced, and impossible to ignore.
I love the rules governing the development of magic in Harkness' world. The whole witches, vampires, and daemons thing is simple enough, and well constructed, but it isn't until Diana starts learning more about what makes her such a special witch that things really get interesting — not to mention fairly unique. As a weaver, Diana sees the world differently than most witches, and I absolutely love the way a highly conceptual topic (weaving threads in the world) becomes more and more tangible as Diana learns how to use her power.
There were a few things that had seemed a bit extreme in the first book — almost as if everyone in the world were overreacting to little sequences of events. This book helps make all of that make more sense, and the danger posed upon the two main characters feels more real than ever.
And I haven't mentioned anything at all yet about the host of supporting characters. I absolutely love Gallowglass, and Jack and Annie added something special to the relationship between Matthew and Diana.Tack onto that Philippe, the members of the School of Night, Mary, "Lizzie," and Father Hubbard, and you get a very colorful view of England circa 1591.
Overall, this was a spectacular read, and I highly recommend giving the series a go if you haven't already.