Category Archives:
Young Adult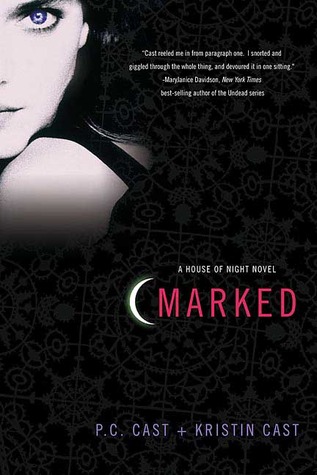 After a Vampire Tracker Marks her with a crescent moon on her forehead, 16-year-old Zoey Redbird enters the House of Night and learns that she is no average fledgling. She has been Marked as special by the vampyre Goddess Nyx and has affinities for all five elements: Air, Fire Water, Earth and Spirit. But she is not the only fledgling at the House of Night with special powers. When she discovers that the leader of the Dark Daughters, the school's most elite club, is mis-using her Goddess-given gifts, Zoey must look deep within herself for the courage to embrace her destiny – with a little help from her new vampyre friends (or Nerd Herd, as Aphrodite calls them).
Rating: 2/5
I really don't know how I felt about this book. Overall, I thought it was ok. And I might read the next one if only because I'm curious about the couple of things that were alluded to at the end of this book. So since I'm otherwise having difficulty articulating my thoughts, I'm going to follow a review format I've seen used by a few other bloggers for this post.
The likes:
I found that for the most part I did like the main character, Zoey. She's sensible and has a good head on her shoulders. She's not overconfident, but she's not really down on herself either. And she does develop well over the course of the book (though I might argue that the bulk of her development is a bit sudden at the end if the book, but hey, epiphanies happen in the real world too, right?). I also liked that when the supposed "hottest guy in school," and possibly even "hottest guy in the world" asked her out she didn't completely lose herself. In fact, she approaches the offer warily.
I liked the way magic was structured in the world. It was pretty cool, and unique, and interesting to learn about.
The dislikes:
Everyone basically picks up on the new religion flawlessly. I mean, yeah, it seems to be somewhat beat into them that as fledgling vampyres they must respect the religion of the House of Night and follow Nyx. But no one even bats an eyelash at suddenly being told to worship a goddess that they ever did. I suppose an argument could be made that only teenagers who had a predisposition toward the belief system of the House of Night would be destined to be marked, but that's somewhat of a stretch for me.
I honestly didn't care for the fledgling idea in general. I wouldn't exactly say that I'm a traditionalist when it comes to vampires (that's obviously not true, given some of the books that I've raved about here), but there are some stretches to the baseline myth/legend that I have difficulty accepting. The idea that certain people get "marked" by a tracker and therefore will become vampyres (yes, I intentionally switched the spelling) is only ok at best. The idea that they then have to go to school to learn what life is like as a vampyre when they may or may not survive the transition (that will happen 4 years later, by the way) is just bizarre.
Tacked onto that the general assumption that the only subjects worth learning about over that time (when normally you'd be in a normal high school) are:
Vampyre Sociology (sensible)
Some subset of the arts (as a band geek, I'm totally on board with this in any basic curriculum)
Language (again, I'm a bit of a language geek and good friends with folks who definitely are, so this is awesome)
Physical fitness of the not so modern-sport variety (like Fencing and Equestrian)
Nothing about math or science. Those fields apparently don't matter for vampires. At all. Like, Not only was there no expectation that those classes are taken, but they don't seem to even have been offered. I totally get not emphasizing them. I totally get people who don't like them. That's fine. But to be preparing these fledglings for a life that they will have to live, presumably, forever, to not offer anything in the fields of math or science just seems wrong, and a bit like the author went "I wish my high school was like this" rather than asking "What would be a realistic curriculum for this subset of society?" Maybe that's just a personal pet peeve, but it bugged me. This may seem like a trivial point to go on about since the school curriculum is obviously not the plot. But seriously, about half of the book was about Zoey's classes and nothing else. Sure, some of it was interesting, but for the most part I just didn't care about what was going on in her classes.
Similarly, the overarching plot was all about regular high school teenage drama. Yeah, there was a magical component to it, but if I wanted to read about an outsider holding a coup against the queen bee popular girl, I wouldn't be picking up an urban fantasy book. In fairness, some decent groundwork is laid for book 2 to potentially have a little more to it than that.
But now for the kicker:
Oh, the inconsistencies (what can I say? I've always been a nitpicker, and attention to detail matters to me). Some quick examples:
First she likes any brown pop and she has a diet coke, then throughout the rest of the book she likes any brown pop that's not diet.
First Heath is her boyfriend. Then he's her almost ex-boyfriend (which kinda makes sense because she supposedly never actually broke up with him). Then he's her ex-almost boyfriend, implying that they had never dated at all. Well, which is it?
In most classes, she was coming in mid-semester, but in the Equestrian class it seemed like the first day.
There were other things that weren't necessarily inconsistencies but were tacked on information that seemed to have been thrown in because it seemed convenient. I understand the desire to do this; I used to write like that myself. But the editing process should at least make those instances less obvious.
Interestingly enough, I started off giving this a 3-star rating. By the time I was halfway done writing I had knocked it down to a 2.5. And now that I'm reading back over, I'm knocking it down again. There was just too much that I didn't care for, and a good chunk of my annoyances were driven largely by two factors: not liking the topic (particular to me) and not liking the writing (much more general). While I wouldn't necessarily discourage anyone from reading this — I'm sure it's great if you absolutely love reading about teenage drama, and some people certainly do — I still wouldn't go out of my way to pick it up. I'd also caution that you should wait until you're in a mood to put up with the drama.