Category Archives:
Urban Fantasy/Paranormal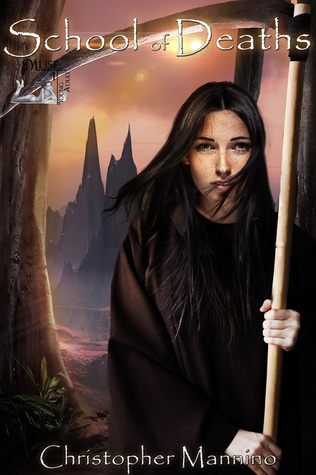 Thrust into a world of men, can a timid girl find bravery as the first female Death?
Thirteen-year-old Suzie Sarnio always believed the Grim Reaper was a fairy tale image of a skeleton with a scythe. Now, forced to enter the College of Deaths, she finds herself training to bring souls from the Living World to the Hereafter. The task is demanding enough, but as the only female in the all-male College, she quickly becomes a target. Attacked by both classmates and strangers, Suzie is alone in a world where even her teachers want her to fail.
Scythes hungry for souls, Deaths who subjugate a race of mysterious magicians, and echoes of an ancient war with Dragons.
As her year progresses, Suzie suspects her presence isn't an accident. She uncovers a plot to overthrow the World of Deaths. Now she must also discover the reason she's been brought there: the first female Death in a million years.
Review
I received a copy of this book as a part of the tour hosted by Enchanted Book Promotions. It in no way affects my judgment of the book.
Rating: 4/5
This was such a fun read—I don't think I've ever been let down by a reaper book. It's a relatively untapped subset of the urban fantasy genre, and these books are always so unique. I particularly enjoyed the idea that people are recruited to be Deaths and have to go to a school and pass a test to get out of their contract. And there are Deaths that "fade," or just get so old that they simply stop existing. And there are Deaths that "cease," or get killed and therefor forgotten. If a Death ceases they are erased (just like if the light from the crack in Amy's bedroom wall touches you, for you Doctor Who fans). It was nicely illustrated, and I was pleased with how Mannino set up the rules of the world. They were creative, they were interesting, and they were consistent.
There's a tension between the three species in the realm where Deaths exist (Deaths, Elementals, and Dragons). As is suggested in the description, Suzie being the first female Death in millenia doesn't really help. Neither does the fact that Suzie is determined to solve mysteries that no one else has even noticed. Trust a girl to shake things up, eh? 😉
I'll be honest and say that some of the bits at the beginning weren't my cup of tea. There were some teenage problems(read: really problems with society in general, not just our teenage population) that, while I generally enjoy reading YA, I could do without. But they weren't important to get through and understand, as they kind of set the scene.
At times it moved a bit slowly, but I assure you it picks up. Once you get into the meat of the plot and Suzie learns enough about the world she's been thrown into, it moves along pretty nicely. Overall, I didn't have any problems with the general pacing.
I do wish Suzie had been a bit older—I think there could have been a bit more depth to her character if she'd been a bit more mature when this all hit (after all, there's only so much I can expect out of a thirteen year old). It certainly didn't detract from the quality of the book, but I think a couple extra years might have brought this book to the next level.
I'll happily read the sequel that's in the works— the ending wrapped everything up in a tidy bow and I don't feel like we're missing part of the story, but the door was left open for some potential follow-on books set in the same world or even picking up pretty much where this one left off. I'm looking forward to seeing how the world develops after the shock Suzie is putting it through. And, I mean, who doesn't want to read about Dragons and Deaths at the same time?
Excerpt
An enormous white wolf with blood-red eyes snarled at her. Suzie screamed.
The walls closed in and the wolf pounced. She ran.
Her body still ached with pain, but her heart thundered in her chest, pounding with complete fear. The wolf howled and another white wolf appeared, with the same blood-red eyes. She sprinted away.
She didn't remember going outside, but the walls were trees. The trees grew dense, a forest closing in. She ran and ran, faster and faster. The wolves howled behind her. More white wolves lurked ahead.
Wolves everywhere. Far behind her, she heard Luc laughing.
One of the bone-white wolves snarled and leapt for her throat. She fell back and rolled. The wolf turned toward her and vanished.
A massive white cobra with blood-red eyes hissed at her. She scrambled to her feet and ran again. Panting hard, her legs in agony, she couldn't think. Her only emotion was fear. Fear surged through her body, giving fleeting strength to her aching legs.
The ground opened and she fell. Down and down until she landed hard on something moving. Spiders. Thousands of bone-white spiders with tiny red eyes. Crawling. She screamed until the sound caught in her throat.
The cobra re-emerged, hissing.
Suddenly she understood. The cobra hissed at her again, its red eyes glaring at her.
"You're a 'Mental, aren't you?" she asked the giant snake.
Luc yelled something behind her. The snake vanished.
For a strange moment, the world cleared. Suzie looked around. The Ring of Scythes surrounding the College stood in the distance. She had run away from the school and collapsed in a field. Behind her, a real forest loomed.
"Not me, you imbecile, her." screamed Luc. His dark face tightened, and he yelled at some invisible threat. The albino man, the 'Mental, stood near him. Luc yelled in terror and ran back toward the College.
The albino turned toward Suzie.
At once all sensation was gone. This time she didn't see wolves, snakes, pits, or spiders. This time, she saw nothing.
The attack was swift and precise, cutting her deeper than a scythe.
Fear.
Pure, unfettered fear. Fear deeper than terror, darker than nightmares. Fear filled with horrors, too terrible to deny.
Fear swept through every cell in her body.
Suzie tried to fight. She tried to scream. Finally, she started to run again. She ran into the forest, tripping over roots. The albino followed her, and the forest darkened.
Crows cawed at her. If she turned, they'd attack. The trees reached down to grab her, but Suzie ran until she reached the other side of the woods. She collapsed.
Deep in the forest, far behind her, someone was crying.
About the Author
Christopher Mannino's life is best described as an unending creative outlet.  He teaches high school theatre in Greenbelt, Maryland.  In addition to his daily drama classes, he runs several after-school performance/production drama groups.  He spends his summers writing and singing.  Mannino holds a Master of Arts in Theatre Education from Catholic University, and has studied mythology and literature both in America and at Oxford University.  His work with young people helped inspire him to write young adult fantasy, although it was his love of reading that truly brought his writing to life.
Mannino is currently working on a sequel to "School of Deaths" as well as an adult science fiction novel.
Watch the trailer here
Book trailer: https://www.youtube.com/watch?v=3AeszKiTz0k
Links
All purchase links can be found at http://www.christophermannino.com/school-of-deaths.html#.U81VLPldWSo
www.ChristopherMannino.com
http://poetsfire.blogspot.com/
https://www.facebook.com/CTMannino
https://twitter.com/Ctmannino
http://www.amazon.com/-/e/B00K2XOP88
https://www.goodreads.com/author/show/8108129.Christopher_Mannino